---
ELEKTRON FORGE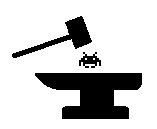 Specializing in (but not limited to!) Space Invaders and Space Invaders Deluxe PCB repairs
---
STATUS UPDATE: Hi Folks, my day job has had me traveling an awful lot to NASA centers on opposite sides of the country for the forseeable future (at least several more weeks). Right now there just isn't any remaining time to work on board repairs and fulfilling orders. It's possible that this might change at any time, but for now it's best that we stop taking on any new work. Feel free to contact us, but I cannot predict how long it might take to get a response. For those customers that already have jobs in-progress, your hardware is all safe and sound. When I do get free time the focus will be on completing your repairs and getting your items back to you as quickly as possible. The long term plan is to keep the business open, but for now it has to be put on the back burner. This all happened without much notice to me, which is why I haven't posted an update until now.

---
Site updated 6/14/2015.
Note: Website is crappy by choice, not lack of ability.